2006 – 2010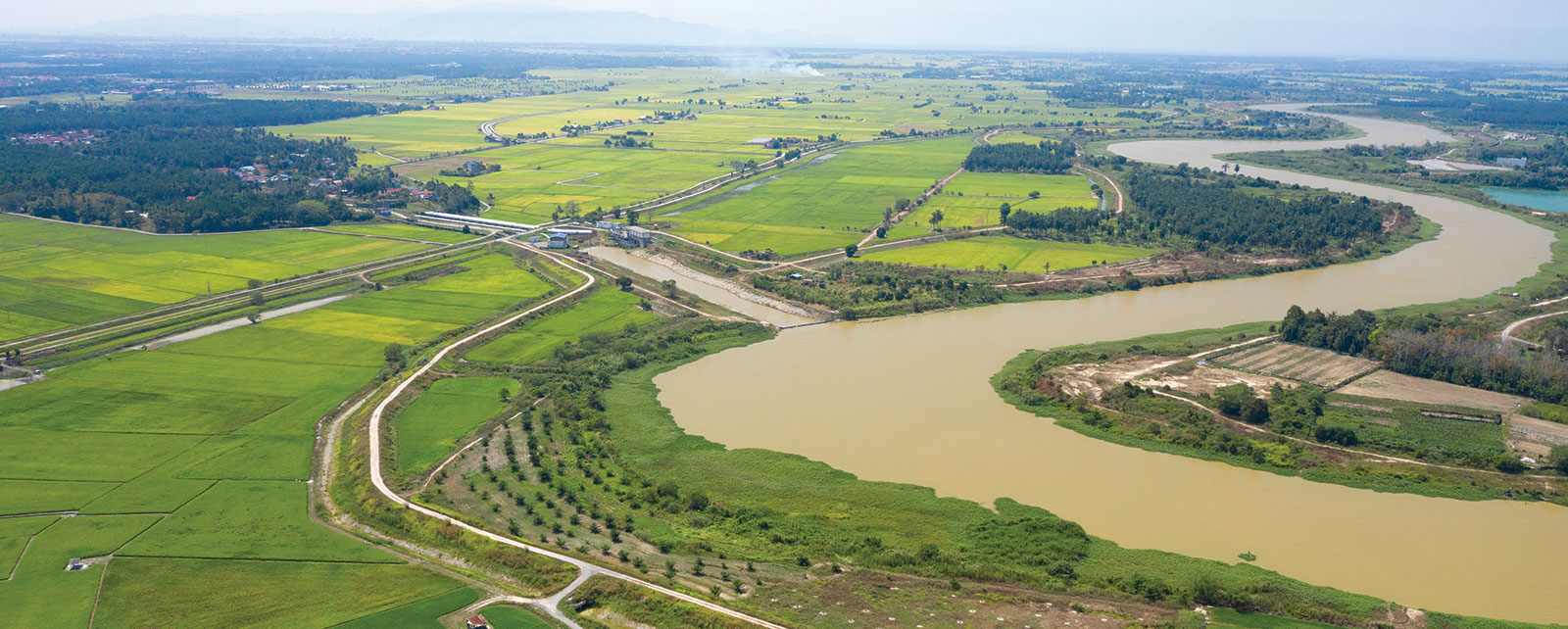 Sungai Muda and Lahar Tiang Water Intake
2006
PBAPP received the OHSAS 18001:1999 accreditation for its occupational safety & health (OSH) management systems. As at 2021, PBAPP manages its OSH systems in accordance to a newer ISO 45001:2018 accreditation.
2007

The Penang Water Services Academy (PWSA), the first water industry specific academy in Malaysia, was founded by PBA Resources Sdn Bhd (PBAR – a 100% owned subsidiary of PBAHB) and the Penang Skills Development Centre (PSDC). PWSA's core mission was to promote and provide water supply industry relevant training and technical competency programmes for the PBAPP workforce and personnel from other water supply organisations.
Through the years, PWSA has run courses attended by personnel from almost all the water operators in Malaysia. PBAR has collaborated with the Asian Development Bank (ADB), HueWACO of Vietnam, Japan International Cooperation Agency (JICA), Indonesian Water Association (PERPAMSI), Institute for Global Environment Studies – Initiative on Environmentally Sustainable Cities (ASEAN ESC), International Water Association (IWA), United States Agency for International Development (USAID) and WaterLinks Asia.
As at 2021, the PWSA has evolved to become an accredited water industry skills development centre which is recognised by the Malaysian Government. Employers have the option of using Human Resource Development Fund (HRDF) contributions to fund PWSA courses for their employees.PWSA is now focusing on vocational training for school-leavers in Malaysia, to support the development of a new generation of water supply industry workers for the future. Meanwhile, PBAR has also set up PWSA branch campuses in Melaka, Kuala Lumpur (smart partnership with Malaysian Water Academy – MyWA) and Penang (smart partnership with the Penang Regional Development Authority – PERDA).

2008

PBAPP received the MS ISO/IEC 17025:2005 accreditation for laboratories for its Central Laboratory in the Sungai Dua WTP. This certification acknowledged that the laboratory, which was set up to monitor PBAPP treated water quality, was conducting its testing protocols and practices in accordance to international benchmarks.
In 2020, the Penang Health Department and PBAPP jointly took a total of 563 samples of raw water and 3,685 samples of treated water, from various sampling points throughout the state, for physical, microbiological and chemical testing. The 2020 test results showed that PBAPP continued to supply treated water that is amongst the cleanest, safest and healthiest in Malaysia in a pandemic year, in terms of compliance with the Quality Assurance Programme set by the Ministry of Health, Malaysia.

2009

The "Masterplan Study for Potable Water Supply in Penang until 2050" (MSPWSP 2050) was completed. It projected that Penang's water demand would reach 1,483 MLD in 2030, 1,696 MLD in 2040 and 1,884 MLD in 2050.
The MSPWSP 2050 also noted that Sungai Muda was Penang's primary raw water resource since 1973; and that this river would be able to meet Kedah and Penang's combined raw water needs reliably until 2025.
Accordingly, the study outlined a blueprint for Penang to tap a second major raw water resource to meet future water demand: Sungai Perak, under a proposed "Sungai Perak Raw Water Transfer Scheme" (SPRWTS).

2010

PBAPP introduced the "Water Conservation Surcharge" (WCS) in Penang to manage per capita domestic water consumption that had reached an all-time high of 291 litres/capita/day (LCD).
This WCS was initially set at RM0.24 per 1,000 litres and was only applicable to domestic consumption above 35,000 litres per month.
In 2013, the WCS was reviewed to RM0.48 per 1,000 litres, only for domestic consumption above 35,000 litres per month. The RM0.48 per 1,000 litres WCS is still applicable in 2021.