PBA GROUP OF COMPANIES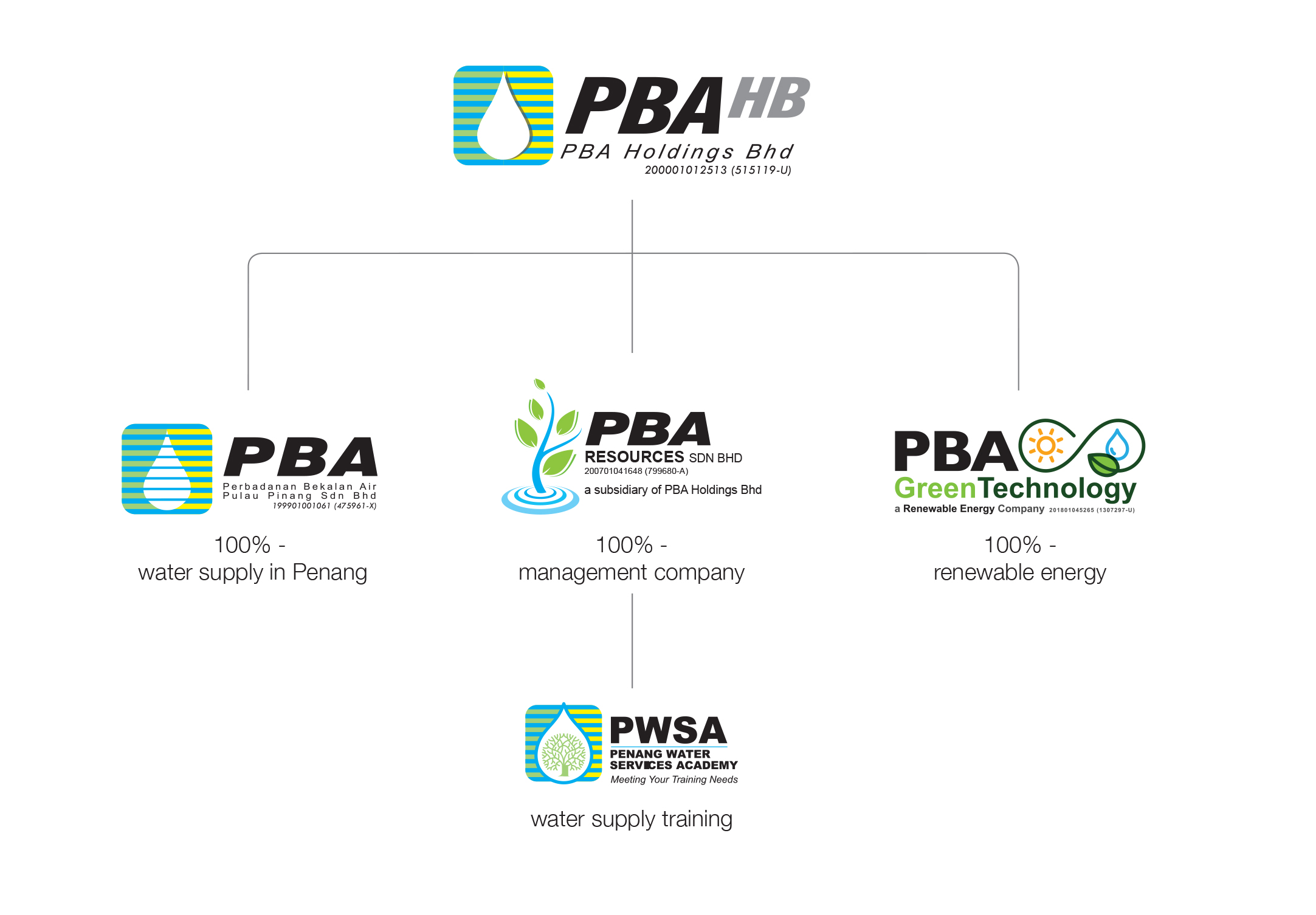 PBA HOLDINGS BERHAD
PBA Holdings Bhd (PBAHB) is a holding company that is listed on the Main Board of Bursa Malaysia. The company was incorporated on 25 May 2000 and listed on 18 April 2002. PBAHB's principal and wholly owned subsidiaries are Perbadanan Bekalan Air Pulau Pinang Sdn Bhd, PBA Resources Sdn Bhd and PBA Green Technology.
As a public listed group of companies, PBAHB operates in accordance to the principles of accountability – to our shareholders, our customers, as well as to the principles of good governance as required by the Bursa Malaysia (Malaysia's stock exchange holding company). 
As the Penang State Government holds a majority stake in PBAHB, we are also accountable to the people of Penang in providing continuous good water supply, 24 hours a day, everyday. 
At the same time, we are accountable to Malaysia's National Water Services Commission (SPAN), a regulatory entity that is empowered by federal laws to oversee water supply services in Malaysia. 
Our vision is to meet all of your water supply needs. We strive to be a leading organisation in water supply in Asia. We believe in holistic, accountable and sustainable water supply services. 
PERBADANAN BEKALAN AIR PULAU PINANG SDN BHD
Perbadanan Bekalan Air Pulau Pinang Sdn Bhd (PBAPP) is the licensed water supply operator that serves the State of Penang. It is a 100% owned subsidiary of PBA Holdings Bhd, which is listed on the Main Market of Bursa Malaysia.
Corporatised in 1999, PBAPP commemorated 20 years of public service for the benefit of Penang and its people in 2019
PBA RESOURCES SDN BHD
PBA Resources Sdn Bhd (PBAR), is a management company which operates the Penang Water Services Academy. The Penang Water Services Academy (PWSA) was set up in 2007 to provide Knowledge-based and Competency-based training for the water supply industry. 
Drawing on the PBA Group's experience and expertise, PWSA promotes and provides industry-relevant education and training programmes to build a knowledgeable and capable water supply workforce for today and tomorrow.
PBA GREEN TECHNOLOGY
PBAHB incorporated a new 100% owned subsidiary called "PBA Green Technology Sdn Bhd" (PBAGT) on 12.12.2018. PBAGT was set up to take on projects in the fields of hydro and solar power.
The main objectives for the renewable energy initiatives are to: 
Explore renewable technology projects at PBAPP's water supply installations, in support of the Vision 2030 aspiration of making Penang a "family-focused smart and green state that inspires the nation."

 

Offset or reduce PBAPP's energy costs by generating "green energy" that may be exported into the national grid.
Unlock the energy generation potential of Penang's water supply installations, without compromising core water supply operations, safety and the environment.
CORPORATE DATA
REGISTERED OFFICE
Level 32, KOMTAR, Jalan Penang, 10000 George Town, Pulau Pinang
CONTACT
Tel : (604) 200 6700
Fax : (604) 200 6704
Email : customer@pba.com.my
STOCK EXCHANGE
Main Board, Bursa Malaysia
Category : Utilities
Stock Name : PBA
Stock Code : 5041
REGISTRAR
Securities Services (Holdings) Sdn Bhd
Suite 18.05, MWE Plaza,
No. 8, Lebuh Farquhar, 10200 George Town, Penang
COMPANY SECRETARY
CHUA SIEW CHUAN (MAICSA 0777689) (SSM PC No.201908002648)
THUM SOOK FUN (MIA 24701) (SSM PC No.201908000139)
CHEW PECK KHENG (LS 0009559) (SSM PC No.202008001118)
AUDITORS
Grant Thornton
PRINCIPAL BANKER
Malayan Banking Berhad, Penang